There's some good news for American Horror Story fans: The show is getting a spin-off and, if the first look is anything to go by, there's a lot to look forward to.
Here are all the juicy details...
If you can't get enough of American Horror Story...
Then you're in luck!
The show's creator, Ryan Murphy, has this week made an exciting announcement...
And it seems we've got a lot to look forward to.
Now, there very few series that are capable of petrifying even the most seasoned of horror fans...
But American Horror Story has created a league of its own and a reputation for terrorizing even the most unphased viewers.
The show first aired in 2011.
The horror anthology series kicked off with its aptly named first season "Murder House," which propelled the show to global small-screen stardom.
The show continued its winning streak with 2012's "Asylum."
The second season of the hit show starred the legendary Sarah Paulson as a journalist named Lana Winters. Set in 1964, the horror spectacle takes place in the confines of an insane asylum where a notorious killer named Bloodyface is committed to. Budding journalist, Lana attends the sanatarium to report on its bakery but is secretly hoping to get the scoop on the killer. But things take a dark turn when Lana herself is locked away in the facility.
"Asylum" also gave us this iconic scene...
If you don't know "The Name Game," where have you been?
AHS is full of stomach-churning twists and turns.
via: imdb
And that's why people love it so much.
The show's other seasons have also garnered success.
via: imdb
The likes of 2013's "Coven," 2015's "Hotel," starring singing powerhouse, Lady Gaga, and last year's "Apocolypse" have all made for gripping viewing.
Arguably what also made the show so famous was its star-studded ensemble cast.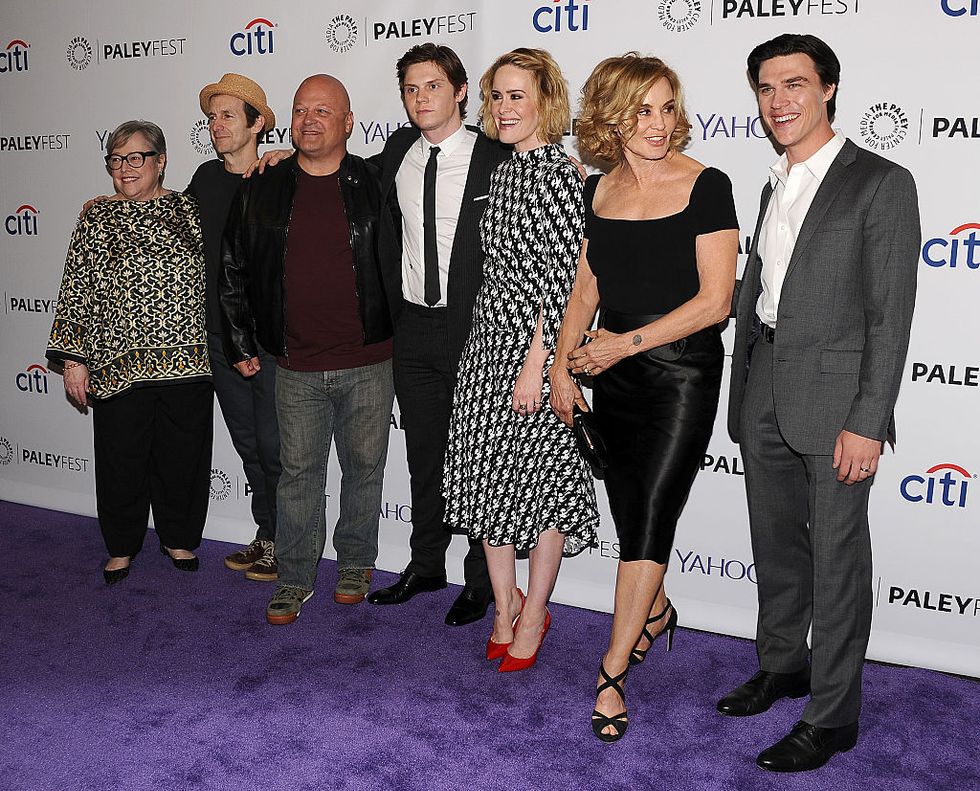 via: Getty Images
Including legends, Jessica Lange, Evan Peters, Sarah Paulson, Lily Rabe, and Taissa Farmiga, to name a few.
They quickly became the faces of the franchise.
When you think of American Horror Story, at its core, Paulson, Lange, and Peters immediately spring to mind.
While the show was no doubt made popular for its unsettling and eerie storylines...
via: imdb
Its flagship cast also garnered equal popularity - with many tuning in each year to see what new characters the actors had morphed into this time.
However, in recent years, the show has arguably lost its flare.
Many fans agree that the show isn't what it used to be, back in the "Murder House", "Asylum", and "Coven" days.
But, nevertheless...
The franchise has clung to a dedicated fan base... And, this week, there's been an exciting announcement.
Ryan Murphy has revealed that an AHS spin-off is heading our way.
Here's everything we know so far about the upcoming show.
To start off with, it already has a name!
The spin-off is called?
American Horror Stories
. Yep, that's going to get slightly confusing.
It's set to be a bunch of one-off episodes...
Entertainment Weekly?confirmed?that FX has picked up?American Horror Stories?and that the format will be similar to?Black Mirror?and?The Twilight Zone:?a self-contained story for each episode.
Murphy shared a poster for the series on Twitter in mid-November.
https://t.co/aiGHAP34iQ

— Ryan Murphy (@Ryan Murphy)1605147082.0
And the best part? Past
AHS
cast members will be appearing in the spin-off.
A lot of familiar faces could be returning...
this Instagram post detailing a Zoom call where the cast chatted about the spin-off, is anything to go by, anyway.
Murphy also confirmed this on Twitter:
It's the AHS spin off. We are doing 16 one hour stand alone episodes delving into horror myths, legends and lore...… https://t.co/SdQMwsjE8F

— Ryan Murphy (@Ryan Murphy)1605150252.0
"It's the AHS spin-off," he wrote. "We are doing 16 one-hour standalone episodes delving into horror myths, legends, and lore…many of these episodes will feature AHS stars you know and love. More to follow.…"
As for a premiere date?
Well, that's unclear, but given the pandemic, production has likely been delayed. In the meantime, scroll on for the latest news on AHS season 10.